We offer REALTOR® SUPPORT
We are committed in helping you grow your business! Below are some tips that will improve your business as well as your personal life. We would be happy to take you out to lunch to discuss how you can implement Staging into your business and marketing plan.
STAGING® is MARKETING
Home Staging® is a great market differentiator that can be introduced to sellers during the listing presentation.

Add Staging® as one of your marketing strategies.
STAGING® is an EXTRA VALUE ADDED SERVICE
Use our services as a way to set yourself apart from your competition and as a way to gain and retain a listing.

Staging® makes a great thank you gift!

Instead of offering money as an incentive to a buying agent, help your client get staged!
STAGING® is a FEELING
Buyers will love the way they feel in a staged homes which will help generate more offers! When people feel good, they tend to spend more money!
A house that is "Staged 4 Sale" is show-ready. Other Agents will feel good when they know that the house is ready to show!
When people love your product, it is easier for you to sell!
When you love the product you are selling, you feel good about it. When you feel good about what you are selling, it creates excitement and you want to share it. The more you talk about your wonderful product, the more people listen and the more people want to see it. By feeling good about the product you are selling, you will peak the curiosity of others.
Increased interest=Increased activity=Offers=a FAST Sale=$
STAGING Changes LIVES
Many of our Realtor® clients are impressed how staging has made a direct impact on their business and has changed their lives forever!
Help change people's lives! It's not fair not to share! Offer Staging to your clients and it will impact their lives in the most positive way. Our clients always remark how staging improves their lives from the outside in!
Less time on the market means your clients can move into the next chapter of their lives while you move onto your next listing!
Help protect your client's equity. Introduce your client to ROSI. Staging is an investment that will give them the largest return which I call ROSI (Return on Staging Investment)
You will have BIGGER commission checks and your client will earn more money too!
STAGED HOMES SELL FAST!
A house that is ready to SHOW, is a house that is ready to GO!
STAGING=MONEY
FASTER Sales=REPEAT business + REFERRALS=More MONEY
Less time on the Market= More Money
Spend Less Money on your listings!
Spend Less Time marketing a seasoned listing=More money
Spend Less Time holding open houses=More Money
Spend Less Time driving to your seasoned listings=More Money
Spend Less Money on gas, paper, and marketing materials=More Money
Not only will your listings sell FAST, you will earn More Money
Earn Staging Bucks for your referrals and use them toward your next Staging!
ASP STAGING CALCULATOR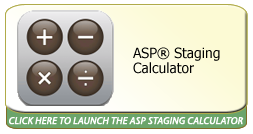 STAGING HELPS THE ECONOMY AND THE PLANET!
Use LESS gas! You won't be wasting gas going to the same property over and over again! Your associates will spend less gas too!
Use LESS paper! Put a stop to printing or copying the same flyers over and over.
LESS time on the Market=LESS houses on the MARKET=LESS Inventory which helps everyone and the economy!
If a house sells fast and is priced right, it keeps price reductions to a minimum which not only helps your seller make top dollar, but it helps the surrounding neighborhoods and the economy.
Just IMAGINE what you could do with all that
EXTRA TIME and MONEY!
Use that Time and Money on a NEW listing! By offering to list and sell a Staged Home, it will give you the competitive edge, and sellers will be begging for your service!
Watch your business GROW!
Have more TIME for yourself and YOUR loved ones.
Give yourself a VACATION
Invest in YOURSELF!
LET's do the MATH!
WANT TO MAKE $80,000 EXTRA PER YEAR? STAGE YOUR LISTINGS!
If the median home price in is $593,000.
Staged homes bring in 3-10% more than an un-staged home resulting in less price reductions. This equates to an equity gain of $17,790 - $59,300 or an average of $38,545 per property.

At 3% commission: $1,156 for you
At 2.5% commission: $964 for you
If you sold 2-4 homes per month…
At 3% commission: $2,312 - $4,624 for you
At 2.5% commission: $1,928 - $3,856 for you
At 3% commission: $27,744 - $55,488 per year for you
At 2.5% commission: $23,136 - $46,272 per year for you
Now consider the savings due to shorter time on the market:
If your listings sell faster, you won't have to market them for as long - and that is a cost savings benefit to you. Less newspaper advertising, lower marketing cost, less time spent in open houses, fewer brochures produced, and so on.
It's safe to assume a minimum savings of $700 in time and marketing costs per transaction.
$700 x 3 transactions/month = $2,100/month or $25,200/year!
TOTAL GAIN = $80,688
SELL YOUR SELLERS ON STAGING!

Realtor Support:
More tips
1. PRE-LISTING MARKETING
Include information on using an ASP™ Stager in all of your marketing pieces.
Create flyers and postcards with Before/After photos and sales information.
Use quotes: "Realtors say staged homes net higher prices and sit on the market for less time than unstaged ones." - Business Week 11/22/04
2. LISTING PRESENTATIONS
Use Staging to set yourself apart from other agents. Show the seller you care about their equity. "I will properly prepare your home for sale."
Let the seller know you have an ASP™ on your team who can provide detailed recommendations on how to get top dollar for your home.
3. SELLING THE HOME
Every seller receives a written report with detailed instructions on how to stage his own home. For vacant properties, we provide a design plan with photos and prices.
Let your ASP Stager be the "bad guy." We're trained in how to talk to your clients with kindness and humor. We always honor the client!
The home must be Staged PRIOR to being listed on MLS or shown to any prospective buyers or agents. Give sellers enough time to do the work.
Create a special open house "event" to get more visibility for your listing (ask your ASP™ to co-host the open house to save on costs).
All homes staged by an ASP™ receive a free posting on Stagedhomes.com which gets 2.5 MILLION hits/month!
4. POST-SALE MARKETING
Know your stats. How much faster did it sell than the competition? How much more per square foot did it get compared to others in the same neighborhood? Quantify your success, then get it out in a mailer, newsletter or email.
What is Staging?
stag·ing [stáy·jing] is the process of preparing any house for sale, regardless of price or location. STAGING® is part of a modern, savvy marketing plan and is the BEST and proven way to package your house and gain the competitive edge in today's market.

When you get ready to place your home on the market for sale, it becomes a product. Similar to a product on the shelf at your local store, each product has its own features and benefits, as well as, deficits and competition. To compete with the competition in the marketplace, you must be priced right and look better than the other products. Homes are not different than any other product for sale. You only get one chance to make a "PROFITABLE 1st IMPRESSION!"

The first step in staging your home is to realize that your home is not for sale but your house is! At this point, it is time to become mentally prepared. It may be difficult at first to think of your home as a mere product for sale, but you need to do this in order to receive TOP DOLLAR and to sell it in a reasonable amount of time. As with any product your house needs to be marketed. Before you market it, you must determine how it shall be packaged. You want to package your product to be appealing to the customer. In this case, the customer is the potential HOME BUYER, therefore, it must appeal to the masses. You want them to choose your house over the competition. To ensure your product looks better than your competition, your home must be re-packaged into a house, a brand new product, to be placed on the market, show-ready and STAGED 4 SALE. To gain an edge in this marketplace, your house must be priced right and look better than your competition.

The Staged 4 Sale team uses a proven professional set of guidelines and policies to help you get staged. Your house will be reviewed for compliance with preset standards and modifications will be made as necessary. This all unique system has proven to help house staged 4 sale, sell faster and/or for more money. Real estate agents will have great confidence in showing your house to potential buyers, because they know it is Staged 4 Sale and is ready to be sold.